Jurassic Coast education aided by tourist donations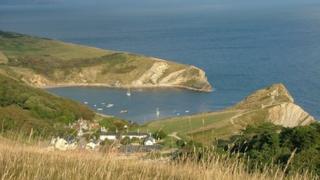 More than £40,000 raised by tourists to Dorset and Devon is being used to educate school children from across the country about the Jurassic Coast.
The visitor payback scheme, run by 26 holiday parks and businesses along the 95-mile coastline, was set up by the Jurassic Coast Trust five years ago.
Visitors are asked to make a £1 donation for every booking they make.
The cash is being spent on educational services, including grants for pupils to visit the World Heritage Site.
Funding is also being used to train teachers about the coastline, to enable them to teach about it in schools and other educational centres.
"The Jurassic Coast provides a visible history of the Earth's 185 million-year geographical history," said James Weld, chairman of the trust.
"It is vital that we teach our children about it."
Other beneficiaries of the payback scheme include the Durlston Castle Visitor Centre, Chesil Beach Centre, and the Litter Free Coast and Sea Campaign.