Thomas Hardy's wife Emma and love poetry remembered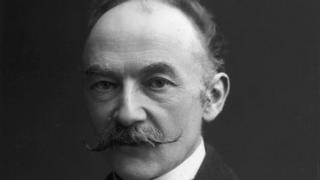 Thomas Hardy's love poetry, which was inspired by the death of his first wife Emma, has been celebrated at a service to mark 100 years since her death.
The memorial service at St Michael's Church, Stinsford, where the couple are buried, included readings of some of Hardy's poems, such as The Going.
Mike Nixon, secretary of the Thomas Hardy Society, described the poems as "extremely moving".
The couple were estranged when Emma died on 27 November 1912, aged 72.
The poem, The Going, begins, "Why did you give me no hint that night", while another of Hardy's love poems, The Voice, includes the line, "Woman much missed, how you call to me".
Mr Nixon said they were "arguably the greatest love poems ever written".
"They didn't have a particularly happy marriage in the final years of Emma's life," he said.
And despite "a second marriage to Florence, it was Emma who inspired Hardy's finest work - a great outpouring of emotion", Mr Nixon added.