Weymouth Pavilion Theatre may be demolished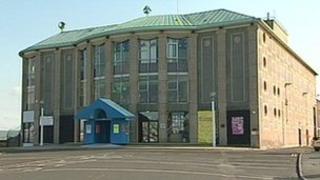 A seaside pavilion in Dorset could be demolished as part of cost saving plans being considered by councillors.
Weymouth and Portland Borough Council is considering knocking down Weymouth Pavilion in a bid to cut its annual spending by £3.9m by 2019-20.
A council report reveals it needs more than £3m of works over 10 years to ensure the building remains safe.
The Guildhall in St Edmund Street and offices in North Quay could also be sold under the plans.
In February, councillors voted to save the pavilion by reversing funding cuts that would have led to its closure.
Plans to spend £135m developing the whole area that included a hotel, refurbished theatre, marina berths, and new flats were shelved in 2009.
The sale of the 175-year-old Guildhall has been proposed because the building is only used by the council for five evening meetings each year.
The report recommends the authority's entire property portfolio, which also includes seafront hotels and parcels of land, should be reviewed.
The measures will be considered at a management committee budget meeting on Tuesday, 4 December.
Other cost-saving plans include restructuring non-essential services and reducing the number of councillors.
The original pavilion building, which opened in 1908, was destroyed by fire in 1954. The current building, built in 1960, continues to operate as a theatre and music venue.