Brad Pitt donates £700 to Southampton baby unit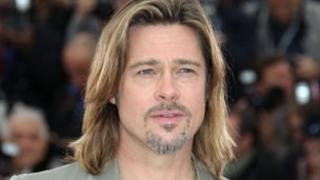 A charity organiser said she managed to get Brad Pitt to donate £700 to a baby unit while he was filming in Dorset.
Tricia Wilson-Hughes, who works at a gift shop in Lulworth, had managed to raise £40 from the crew of the zombie film World War Z, during a whip round.
But then she saw Pitt's security guard and asked him if the star could donate and the guard returned with £700.
Ms Wilson-Hughes is raising money for Southampton hospital's neonatal unit where a friend's baby was treated.
Zachary Gallagher, who is now 18 weeks old, was born with gastroschisis and was in intensive care for nine weeks.
'Completely dumbstruck'
It is a condition where part of the bowel protrudes through the abdomen.
Ms Wilson-Hughes said she was worried the filming might impact on a fundraising event in Lulworth on Saturday and wanted to see if the actor could help.
"I wasn't too bothered if I didn't see Brad Pitt... [but] I felt I had to do something for the charity," she said.
"I was going round the crew as they passed the gift shop. They were putting in £5 notes... one asked me if we took cards."
She said when she spotted Pitt's security guards she asked for a small donation "of maybe £50".
"[The guard] came back about 10 minutes later and said this is off Brad for your charity.
"He said there's £700 in there, I couldn't believe it, I was completely dumbstruck. He said if he had more he would have given it.
"I said honestly that is more than enough, but if he wants to do anything in the future that is absolutely fine.
"You hear negative stories about A-listers but I won't hear a wrong word against him, I am in awe of him."
Suzie Simmons, fundraising officer at Southampton Hospital Charity, said: "It's not everyday a Hollywood A-lister offers to help us.
"We're delighted Brad Pitt has taken the time to personally support... the outstanding neonatal intensive care unit team at the Princess Anne Hospital."
Pitt's security guard said the actor was planning to hold his own whip round of the crew and send a donation from Los Angeles.
Filming for his movie, which is based on Max Brooks' 2006 novel World War Z: An Oral History Of The Zombie War, has been taking place across the UK and is due for release next year.