Poole tree fell sea view trial: Neighbour found guilty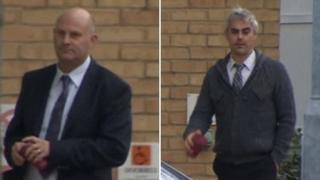 A man has been found guilty of telling a tree surgeon to fell a protected tree in his neighbour's garden to improve sea views from his home in Dorset.
Neil Davey, 52, paid Thomas McGuire, 34, to fell the maritime pine in his neighbour's garden on Heavytree Road in Branksome Park, Poole, in 2010.
Davey was given what is thought to be a record fine of £75,000 and told to pay the council £50,000, the estimated rise in value of his home with the view.
McGuire was found guilty and fined.
He was fined £2,500 while both men must pay costs to the council totalling £17,500.
The court heard McGuire entered the garden of the house under the cover of darkness during the early hours of 20 June 2010.
'Everything shook'
Davey's neighbour Steve Bransgrove was woken up by the "sound of an engine revving and a loud bang" and found the 12m (40ft) pine in his garden had been felled.
The 52-year-old tree, which was subject of a preservation order, narrowly missed hitting nearby houses when it came down.
Mr Bransgrove said: "The house shook, everything shook. It was as if something had hit the house."
With the tree removed, Davey had "uninterrupted views of the Purbeck Hills and harbour from his hot tub", a council planning officer told the hearing.
Davey, of Inverclyde Road, Poole, was found guilty of causing the wilful destruction of a tree.
McGuire, of Richmond Park Road, Bournemouth, was found guilty of the wilful destruction of a tree.
Reacting to the case, John Sprackling, chairman of Branksome Park, Canford Cliffs and District Residents' Association, said: "We need to prosecute so that people don't cut down trees willy nilly.
"Eventually Branksome Park will just become Branksome - with no trees."