Poole man accused of having tree felled admits lying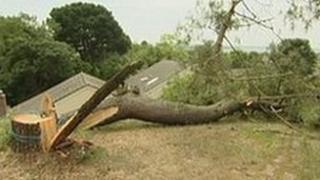 A Dorset businessman accused of having a neighbour's tree felled to improve his sea view has admitted in court he lied to police.
Neil Davey, 51, of Davey and Davey Auctioneers, allegedly paid Thomas McGuire, 34, to fell the maritime pine in Heavytree Road, Poole in June 2010.
Both men deny any involvement.
Mr Davey told Bournemouth Crown Court he had been panicked by his arrest and said he had lied in a series of interviews.
'Dug a hole'
"I've been an absolute fool," he told the court.
"If I'd been more frank in the first place then I wouldn't be standing here today."
Mr Davey denied he had known tree surgeon Mr McGuire a long time, but said in court he had been less than honest with police when asked about his links to him.
He said he "dug a hole" for himself when first spoken to under caution, and then could not get out.
Counsel for Mr McGuire told the jury he would not be going into the witness box.
It is alleged Mr McGuire entered the garden of Mr Davey's neighbour, Steve Bransgrove, under the cover of darkness during the early hours of 20 June 2010.
The 52-year-old, 12m high (40ft) tree was the subject of a preservation order and narrowly missed hitting nearby houses when it came down.
Mr Davey, of Inverclyde Road, Poole, denies causing or permitting the wilful destruction of a tree.
Mr McGuire, of Richmond Park Road, Bournemouth, denies the wilful destruction of a tree.
The trial continues.