Prince Charles opens Dorset food-powered biogas plant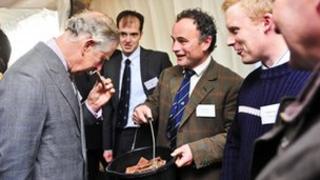 The Prince of Wales has officially opened a power plant in Dorset that will run on locally produced maize and food waste, including chocolate.
Prince Charles visited the anaerobic digester and biomethane plant in Martinstown, near Dorchester, after opening a ward at the town's hospital.
The plant will provide renewable gas to Poundbury, the village built according to the prince's town planning ideals.
Prince Charles said it had been a "very exciting and encouraging day".
The power plant at Rainbarrow Farm, on land owned by the Duchy of Cornwall, is a joint venture between local farmers and the Duchy. It is believed to be the first of its kind in the UK to feed biogas directly into the national gas grid.
Unveiling the plant, Prince Charles said: "I have been badgering the Duchy and others over the years to find a way of kick-starting the anaerobic digestion sector in this country.
Cancer ward
"When we first started looking at Poundbury 25 years ago, I remember wanting to try and see if we could then start something like this related to human sewage.
"But I'm afraid I was 25 years too early."
The biogas will be produced from 41,000 tonnes of maize, grass silage and food waste from local farms and businesses, including Poundbury-based Dorset Cereals and the House of Dorchester Chocolate Factory.
Earlier the prince visited Dorset County Hospital to open a specialist ward for cancer patients.
He unveiled a plaque at the 14-bed Fortuneswell Ward before paying a visit to the hospital's mammography suite and an orthopaedic ward.
Before welcoming the prince to the hospital, chief executive Jean O'Callaghan said: "We feel incredibly honoured to have him [Prince Charles] visiting the hospital today.
"Prior to this we used to treat people with cancer in wards all over the hospital. Now we have been able to create this one ward - it's a beautiful facility and the staff are all trained so people who are experiencing cancer can get really good care in one place."
The prince's last visit to the hospital was to open its first new wing in 1987 - it had previously been West Dorset Hospital.
Prince Charles also planted an oak tree, donated by the charity Trees for Dorset, at Middle Farm, Poundbury, to mark the Queen's Diamond Jubilee.