Hospital HIV questions intrusive: Body Positive Dorset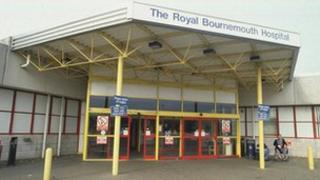 Hospitals in Dorset have been accused of asking patients with HIV "intrusive" and "unnecessary" questions about how they contracted the virus.
Body Positive Dorset said it has received complaints about Royal Bournemouth and Christchurch hospitals.
The charity said it has also dealt with claims that HIV patients were routinely put at the end of surgery lists.
The NHS trust apologised to anyone distressed by the questions but said staff needed to know clinical history.
Body Positive Dorset said it would raise the matter with Bournemouth MPs Tobias Ellwood and Conor Burns.
Richard Erven, manager of the charity, said: "Until recently any patient who was known to be HIV positive would routinely be put to the back of the list for surgery.
'Welcome discussion'
"This often resulted in them missing their surgery because earlier operations had overrun.
"Eventually the senior hospital staff took on board the irrationality of this practice and it has now pretty much ended."
But Mr Erven said recent complaints had focused on senior staff, such as surgeons and anaesthetists, questioning HIV patients about how they contracted the virus.
"This is insensitive, intrusive and entirely unnecessary," he added.
"If a man contracted the virus as a result of a blood transfusion or a woman as a result of sexual intercourse will they receive different medical treatment? Of course not."
He said the hospitals had given assurances the practice of questioning HIV patients would not happen.
Dr Mary Armitage, medical director at the Royal Bournemouth and Christchurch Hospitals NHS Foundation Trust, said: "Our staff have to take an appropriate clinical history from all patients in order to be able to manage their care accordingly.
"We are sorry if any patient has been distressed by our approach and would welcome a discussion with Body Positive Dorset."