Poole men 'plotted to cut down tree for sea view'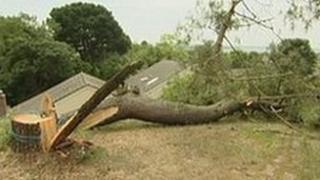 The owner of a Dorset auction house told a tree surgeon to cut down a protected tree to improve the sea views from his property, a court has heard.
Neil Davey, 51, of Davey and Davey Auctioneers, allegedly paid Thomas McGuire, 34, to fell the maritime pine in his neighbour's garden.
The court heard Mr McGuire entered the garden of the house in Heavytree Road in Poole under the cover of darkness during the early hours of 20 June 2010.
Both men deny any involvement.
The court heard Mr Davey's neighbour Steve Bransgrove was woken up by the "sound of an engine revving and a loud bang" and found the 12m (40ft) pine in his garden had been felled.
The 52-year-old tree, which was subject of a preservation order, narrowly missed hitting nearby houses when it came down.
Mr Bransgrove said: "The house shook, everything shook. It was as if something had hit the house."
Hot tub
Andy Dearing, Poole council's planning enforcement manager, told the jury he had visited the scene the next day to carry out investigations on behalf of the council.
He said: "I've never come across a case like this. At first I thought it was a bogus call. I was flabbergasted.
"I had to ask myself who was to gain a view from this?"
He said he followed a "natural trail" which looked like it had been recently trodden along and emerged in the garden of Mr Davey's house in Inverclyde Road, which backed on to Heavytree Road.
"I saw the recently purchased sun loungers and a new hot tub and I realised the occupants now had uninterrupted views of the Purbeck Hills and harbour."
When Mr Davey was questioned by police, he claimed Mr McGuire was a "passing acquaintance".
But prosecutor Michael Tomlinson said in fact the men had known each other for about 10 years.
Mr Tomlinson said Mr Davey made two phone calls before being questioned, one to his wife and one to Mr McGuire effectively "tipping him off".
The court also heard mobile phone records showed Mr McGuire's phone signal had been registered by a mast in Parkstone, close to where the tree had been felled, despite him claiming he had been in Yeovil at the time.
Mr Davey, of Inverclyde Road, Poole, denies causing or permitting the wilful destruction of a tree.
Mr McGuire, 34, of Richmond Park Road, Bournemouth, denies the wilful destruction of a tree.
The trial was adjourned until Tuesday.