Dorset PCC: Martyn Underhill pledges boost in Specials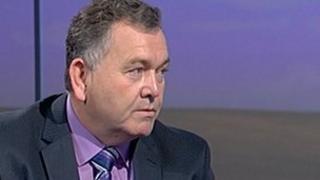 Dorset's new Police and Crime Commissioner (PCC) has pledged to draw on the "Olympic surge" to boost police levels.
Martyn Underhill said he would restart recruitment of volunteer Special Constables to increase the visibility of the force.
Mr Underhill stood as an independent candidate, beating Conservative Nick King into second place.
He was previously a senior officer with Sussex Police.
Mr Underhill said he hoped the enthusiasm for volunteering seen during the Olympics would help increase the number of Special Constables in Dorset beyond the current 200.
Weymouth and Portland hosted the Olympic and Paralympic sailing events.
'Humbling to watch'
He said: "We have to be realistic in times of austerity.
"If we are to increase visibility without increasing cost, we need to embrace the public and Special Constables.
"It's what I call tapping into the Olympic surge. We had 78,000 people, including those in Weymouth, who helped police the Olympics. It was humbling to watch."
"This is a step change in policing - I need the public to help me police Dorset," he said.
The new commissioner added that he would press ahead with setting up community and victims' forums for the public to raise issues over policing.
Mr Underhill said the election was a "shambles", with low turnouts around the country, but denied that reflected a lack of interest in PCCs.
He insisted there was "already interest out there" in his idea for eight community forums, each made up of 40-50 people.
The new PCCs, which replace police authorities, will set spending plans and have the power to appoint chief constables.
One of Mr Underhill's first tasks is to recruit a new chief constable to replace Martin Baker who stepped down earlier this year.
He will oversee policing in a county of more than 700,000 people and a budget which was set at £117m for 2012/13 - a reduction of about £3m compared to the 2011/12 figure of £120m. Further cuts are expected up until 2015.