Matthew Robinson gets Queen's Gallantry award after fire rescue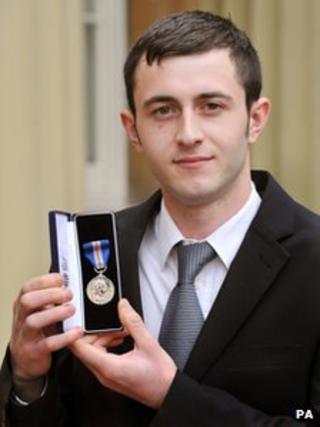 A Dorset man who helped rescue five children from a burning house, has received a gallantry award from the Queen.
Matthew Robinson and his parents helped rescue the children from their home in Abbotsbury in 2010.
He received the Queen's Gallantry Award at a ceremony at Buckingham Palace.
Asked what it is like to be a hero, the 20-year-old mechanic said: "It feels quite good, I'm not going to lie."
After receiving the medal, Mr Robinson said: "It is good to know that the Queen realises that people in our own country do stuff that is heroic as well."
Mr Robinson, 20, heard Tracee Barlow screaming for help as her children were trapped in their home when it caught fire, in January 2010.
His mother Jackie Robinson, got a ladder and helped three of the children escape.
Mr Robinson went inside the house to gather Ms Barlow's son Jack, 11, and daughter Chantelle, five, before passing them out of the window to his father, Roy Robinson.
The children were treated for smoke inhalation but at the time Dorset Police said there would "almost certainly have been a more serious, if not a fatal, consequence" if it had not been for the Robinsons' actions.
The Queen's Gallantry Medal is awarded for acts of bravery by citizens that rank lower than those deemed necessary for the George Medal.