Solar Monkey imported by Lesser and Pavey Ltd was 'unsafe'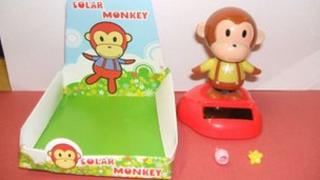 Dorset's trading standards service has prosecuted a Kent company for importing an "unsafe" solar-powered monkey.
Lesser and Pavey Ltd of Dartford, Kent, pleaded guilty to three offences under the Consumer Protection Act 1987 at Weymouth Magistrates' Court.
A trading standards officer bought one in the lead up to Christmas and its parts were deemed a choking hazard.
Ivan Hancock, of Dorset County Council, called it a case of "shutting the stable door after the horse bolted".
He added: "Businesses importing toys play a critical role in ensuring unsafe goods are not sold to UK consumers.
"They are legally responsible for checking that all toys are safe before distributing them."
More than 3,000 of the toys, which moved when placed in sunlight, were sold by the company.
It was fined £2,000 and ordered to pay prosecution costs of £613.