MP Chris Chope calls for Spur Road temporary toll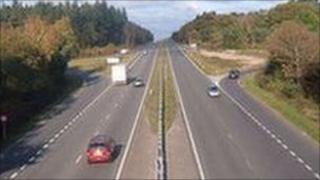 An MP has called for a temporary toll to be placed on a Dorset road to help fund multi-million pound repair work.
Dorset County Council said a 6.5-mile stretch of the A338 Bournemouth Spur Road "has reached the end of its design life" and needs "significant" repairs.
The council applied to the government for £20m of funding for the work in 2011, but this was refused.
Conservative MP, Chris Chope, suggested a toll for non-Dorset residents until the funding is achieved.
'Unacceptable'
He said the council needed to think of "more imaginative" ways to find the cash.
"The toll would not apply to Dorset residents because they already pay their taxes for this stretch of road", Mr Chope, MP for Christchurch, added.
Mike Winter, head of highways management at Dorset County Council, said: "Without additional funding to carry out the work in one stage we would need to undertake regular and costly annual maintenance, which is unsustainable for the council and unacceptable in terms of the ongoing disruption it would cause drivers."
Dorset County Council initially asked the Department for Transport (DfT) for £24.3m.
This was dropped to £20m following the government spending review but the DfT told the council the saving was "insufficient".
The council had planned to start the six-month repair works in September 2011, but this was shelved when the government refused the funding.
Between November 2009 and March 2010 advanced works were carried out on some sections of the dual carriageway.