Bournemouth Imax seats donated to theatre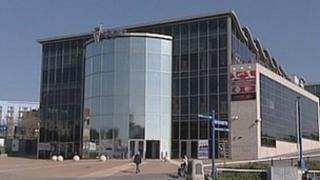 Seats from a "hated" Imax cinema in Bournemouth are to be reused in other local buildings.
The venue, labelled an eyesore by residents who complained it blocked views of the sea, is due to be demolished in early 2013.
The Shelley Theatre will get 220 cinema seats donated by the town council as well as catering equipment.
Others will be used to replace some of the old seating in the public gallery of the council chamber.
The council said that the seating was hardly used and is in very good condition.
Jon Dunne, director of Shelley Theatre, said: "These chairs will make such a difference to this small intimate theatre."
After the demolition the site will be used for a new outdoor events space which is due to open next summer.
The cinema opened in 2002, nearly three years behind schedule but closed in 2005.
In the same yeare it was voted one of the UK's most hated buildings in the Channel 4 programme Demolition.
People can watch progress of the demolition on the council's website.