Poole road system unsafe for pedestrians, report says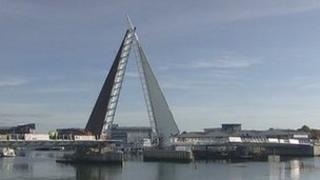 A consultant's report has criticised Poole harbour's road layout, urging the borough council to act quickly to improve safety for pedestrians.
A one-way "gyratory" system around the harbour's two road bridges has come in for scrutiny from independent experts following a public consultation.
The report suggests replacing the system with two-way roads, increasing signage and providing more crossings.
Councillors have met to discuss its findings.
Chairman of the borough council's economic overview and scrutiny committee, Councillor Brian Clements, accepts the detailed criticism is valid.
He said: "I don't think there'll be much argument about the report's findings.
"The scheme was extremely controversial when it was approved back in August 2011. A lot of people thought it required a lot more attention and it wasn't up to scratch.
"I suspect many of them will now be saying 'I told you so'."
'Dangerous situations'
Transport planning consultant Phil Jones and Andy Ward from sustainability group New Masterplanning compiled the detailed report which runs to more than 150 pages.
Other short term suggestions include the introduction of 20mph speed limit zones and wider cycle lanes.
Long-term opponent councillor Mark Howell, from the Poole People's Party, hopes the report will pave the way for desperately needed changes.
He said: "There are fundamentally difficult and dangerous situations for cyclists to negotiate at several points around this system.
"I'm pleased to see that finally there's an acceptance that cycling is a very dangerous proposition on this gyratory.
"Cycling and the movement of pedestrians is absolutely critical in this part of Poole and to the wider regeneration of the town."
The review of the report is under way with a public process meeting at the council's civic hall before an all-day select committee style hearing on 21 November.