First Bournemouth and Poole marathon event announced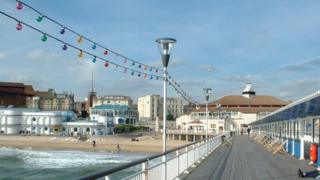 Bournemouth and Poole are to host an international marathon event for the first time.
Entries for the Bournemouth Marathon Festival, which will take place on 5 and 6 October next year, opened on Monday.
The two-day event includes a marathon, half marathon, 10K, 5K and two junior races.
Highlights of the marathon route include Bournemouth Pier, Boscombe Pier and Poole Harbour.
Neil Kilgour, race director, said: "An event of this scale brings out community spirit and gives residents a sense of pride and coming together."
Runners of the 5K "Speed of Light race", which will take place at dusk in Bournemouth, will each be provided with an LED wristband in order to "light up the pier and promenade", according to organisers.
The 10K run will be accompanied by music from Dorset-based bands along the route.
The exact routes of the six races are yet to be decided by the event organisers and Bournemouth and Poole councils.
Macmillan Cancer Support is the festival's official charity.