Dorset PCC: Contenders clash over funding cuts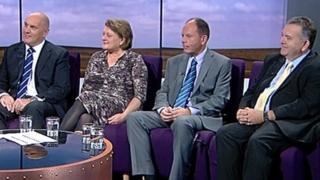 The four candidates in Dorset's police and crime commissioner (PCC) elections have disagreed over the best way to deal with cuts to the force's budget.
Dorset Police faces a 20% cut in its financial settlement from government.
Speaking on the BBC Radio Solent PCC election debate, the candidates all said they wanted to maintain frontline policing, but differed on funding.
Contenders' solutions included more mobile IT, selling off buildings and reassigning traffic police.
Spending review
Dorset Police's spending review has also resulted in 270 officer and staff posts going, with another 162 officer and 160 staff posts having to be cut by 2014/15.
Former Sussex police chief Martyn Underhill, standing as an Independent, said "police visibility is definitely what the public want".
"I want to secure more funding for our force. The equation of how Dorset gets its funding is wrong - I intend to fight that to get more policemen on the beat."
Conservative candidate Nick King, a Bournemouth councillor, said "Let's be honest we won't have money for extra officers. The fact is the cuts are happening, we have to find the best person who can manage that."
He urged more mobile IT equipment to allow officers to write up reports on the road.
Labour candidate and former prison governor Rachel Rogers said: "Safer neighbourhood teams build confidence in the police.
"The cuts are too far and too deep - we need to make people aware of what the government is doing to police budgets."
Outsourcing services
Dorset Police had signed up to consider outsourcing some police roles to private security contractors G4S before the firm's Olympics fiasco.
Dealing with a question on whether outsourcing to the private sector could save the force money, Liberal Democrat candidate and mayor of Dorchester Andy Canning described it as a "codeword for privatisation which I'm totally against".
"Contracts are often inflexible and don't work," he added and questioned Mr King's role in outsourcing council services in Bournemouth.
Mr King said: "I'm proud of the fact Bournemouth has been quite innovative in solutions for providing services for people. If I can do the same with Dorset Police the that's what I'll do so we can make the money go as far as we possibly can."
Ms Rogers said outsourcing was "frankly a back door to privatising the policing service".
"One of the PCC's key roles is to knock down local authority boundaries and get better value for money," she said.
Mr Canning said "significant savings" could be made by getting rid of CCTV in areas where few crimes take place and reassign police from traffic duties.
He said he favoured more static cameras and cutting manned traffic police patrols.
Mr King said use of static cameras is "not a particularly good investment" and preferred community speedwatch programmes run by local volunteers.
Mr Underhill said traffic patrols should be maintained with a crackdown on rural speeding and mobile phone use in cars.
He also called for a police presence in village shops as well as new "policing hub" in the north of the country, paid for by the sale of police buildings in Bournemouth and Poole.