Baden Powell letters to Scout to be auctioned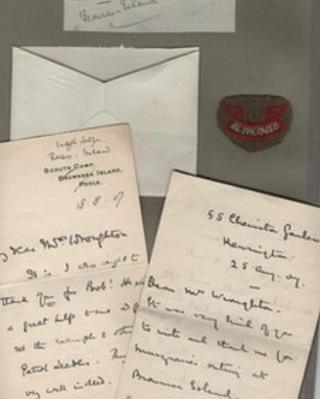 Letters from Lord Baden Powell to the parents of one of the first Scouts are to be auctioned.
Musgrave Wroughton, known as Bob, was sent to the inaugural experimental Brownsea Island camp in Dorset in 1907.
Writing to his mother after the camp, Lord Baden Powell wrote: "Thank you for Bob! He was a great help to me and set the example to other patrol leaders."
The letter was found in its envelope attached to a card leaf which features the very first Scouts badge.
Following his stay at the camp, Musgrave Wroughton, who was aged 15, became friends with the scouting founder and toured America with him giving talks on the movement.
'Tragic story'
Richard Westwood-Brookes, historical documents expert at Mullocks Auctioneers in Shropshire, discovered the letters within an album containing pictures, correspondence and press cuttings of the former Scout.
He said: "It was a very poignant and tragic story."
Lieutenant Wroughton served in World War I and died on October 30, 1914, aged 24.
Following his death, Lord Baden Powell wrote to his family in Northamptonshire expressing his deepest grief.
He wrote: "I have felt as nearly as possible like a second father to him. I am so glad that he had made his mark already before he died."
Mr Westwood-Brookes said: "To me it epitomises everything that you think about the war, Bob had a glittering career ahead of him, but it all came to nothing with one sniper's bullet on the killing fields in Flanders."
The letters go for auction on 22 November at Mullock Auctioneers.