RNLI Poole to display cardboard lifeboat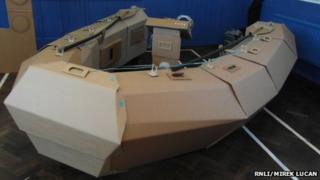 A cardboard replica of a lifeboat will go on display at the Royal National Lifeboat Institution (RNLI) headquarters in Dorset.
The boat, which has paddles and cork life jackets, was made by Bournemouth-based artist Miroslav Lucan.
It was created as part of The Global Cardboard Challenge, a charity initiative launched to inspire creativity in young people.
It will go on display at Poole-based RNLI from 12-14 November.
Mr Lucan, 30, who was born in Slovakia and moved to the UK 10 years ago, said his 3m x 2m (9ft 10in x 6ft 6in) cardboard creation "had to be transportable and detachable".
"I wanted it to be easily taken apart and put together again without changing the shape, or damaging the structure," he added.
The boat, which the RNLI described as "stunningly lifelike", was inspired by Mr Lucan's love of the coast.
He said his own memories of lifeboats were so familiar to him, he made no plans or sketches and was able to create the entire model from memory.
The Global Cardboard Challenge, launched by Imagination Foundation, took place across seven days in October, in 25 countries.