Richard Drax MP urges rethink of Portland helicopter plan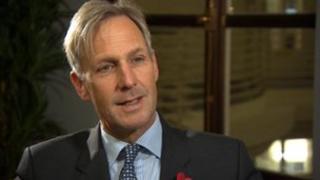 Arguments against plans to scrap a Dorset search and rescue helicopter have been presented to the government.
It wants to axe the Portland Coastguard helicopter in 2017, after the station there has shut between 2013 and 2015.
South Dorset MP Richard Drax was invited to give evidence in front of ministers on the Transport Select Committee on Monday.
He called the move "sheer folly" and urged a rethink, saying it could end up costing the government more money.
It followed a report he had submitted about the adverse impact he said the closure would have on the area.
'Lives will be lost'
Mr Drax said: "The simple message [to the committee] was to retain our Portland search and rescue helicopter.
"Not only will lives be lost if it goes, but the cost analysis doesn't actually add up, because for example each death is about £1.7m.
"So we need to save about two lives - the helicopter costing between £4m and £5m to keep there for 12 hours a day - to make sure this pays its way.
"And when you think how many times the helicopter is called and lives are saved, it's a no-brainer."
The Conservative MP said the Portland helicopter was called out just as often as those at Lee-on-Solent and Culdrose - services which are not under threat.
"We have 50 diving incidents a year. The divers have to get to a chamber pretty quickly," Mr Drax said.
"If the helicopter isn't around and the Lee-on-Solent and Culdrose [helicopters] are being used - which is the idea, that's what will cover ours when it goes - there's a chance that some of those divers may die.
"I hope the select committee listened to what we've said and go away and ask the government, tell the government, that they must rethink this."
The Portland helicopter attended 202 incidents last year, while the helicopter based in Lee-on-Solent attended 219.
The Department for Transport previously said a more modern, faster fleet of helicopters operating from fewer bases would provide a more reliable overall service that still met the key search-and-rescue requirements.
In a separate move, the Portland Maritime Rescue Co-ordination Centre is scheduled to close sometime between 2013 and 2015 and be replaced by a new Maritime Operations Centre in Fareham, Hampshire.