Isle of Wight launches own brand of milk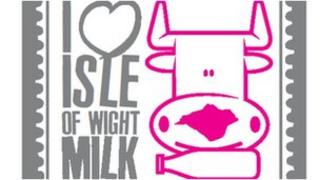 Dairy farmers on the Isle of Wight have launched a brand of milk which is produced, processed and packaged on the island.
The Island Dairy Farmers Group say currently about 80% of milk produced on the island is transported off, while mainland milk is brought on.
The new brand, I love Isle of Wight Milk, aims to cut transport costs and ensure farmers are paid a fair price.
Tesco and some Southern Co-operative stores will sell the milk.
Louise Hart, secretary of the Island Dairy Farmers Group, said: "Working closely with Rew Valley Dairies we are looking forward to rolling out our new brand featuring our distinctive logo across the island - we expect that to take a few weeks.
"Our milk will also be stocked in a number of smaller shops and convenience stores across the island - and we are really grateful for their support."
Better deal
The number of dairy herds on the Isle of Wight has fallen to 15, from more than 300 in the 1960s.
Farmers around the UK have been campaigning to get a better deal on the price they are paid for milk.
The island's MP, Andrew Turner, said: "This is an easy way for anyone to support our island economy.
"Buying this milk will support island cows, island farmers and help to protect our beautiful countryside - so I hope people will look out for it.
"I have been heartened by the support of so many people with this campaign - many simply didn't realise that the milk they have been buying for years wasn't locally produced.
"There has been a lot of hard work to get this far - but this is an exciting development and seeing the new milk brand out on shop shelves across the island will make it all worthwhile."