Boscombe surf reef builders ASR Limited in liquidation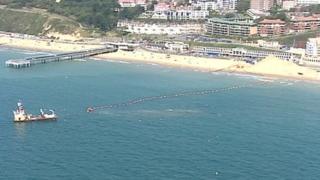 The future of Europe's only artificial surf reef is in doubt after the company that built it ceased trading.
New Zealand-based ASR Limited, which built Boscombe surf reef in Dorset, has been in liquidation since September, the BBC has learned.
The £3.2m reef has been out of action since May 2011 after it was damaged by a boat propeller. ASR had been due to carry out repairs in May.
Bournemouth Borough Council claims the reef "has been a fantastic success".
The authority said news of ASR's liquidation was unlikely to affect its plans to repair the reef, but refused to reveal whether it had previously known ASR had ceased trading.
It is pursuing an insurance claim for the damage.
The reef, made of 55 giant sand-filled bags 740ft (225m) out at sea, opened in November 2009 after lengthy delays and running over budget.
'An embarrassment'
It was deemed "sub-standard" in an independent report in 2010 which found it had not achieved all of its objectives.
But ASR denied the reef had failed and said it was only one of the criteria - the wave lengths - which it had not met.
Documents filed by Companies House in New Zealand revealed the firm ceased trading in July. Liquidators were appointed in September, who filed their first report last month.
The council is currently not listed as a known creditor while another sub-contractor from Dorset claims to be owed £30,000 by the company.
To date, liquidators have received claims from creditors for debts of $5,996 NZ (£3,223) and outstanding tax bills of $280,284 (£150,690).
The council has already recouped £196,000 in insurance claims relating to the damage. Previously, it has stated it will await the outcome of a second claim before commissioning a local company to repair it.
Director for tourism Mark Smith said: "The nature of the repairs necessary do not require the specialist skills that ASR had.
"It's been made clear no additional taxpayers' money will be spent enhancing the reef's performance for surfing and that position remains unchanged."
Opponents have long-argued the reef should be demolished, including Labour borough councillor Ben Grower.
He said: "It's an embarrassment. Nobody at the council wants to talk publicly about it and sooner or later money will have to be stumped up to get rid of it.
"There's still signs saying it's out of action. They'd be better off replacing them with ones that say 'Sorry, it's been a waste of money'."
Dive centre
But Mr Smith said: "It's been a fantastic success and will continue to be that.
"We are delighted with the regeneration given to an area. It's become, in fact, the model that people want to see applied to the rest of Bournemouth seafront.
"We are looking at expanding [the reef] to become a dive centre and that's being funded by government-backed money."
Chartered surveyor David Weight, of Poole, credited with the reef's original concept, said he felt it could be easily maintained and modified.
"I've long said a Plan B and a Plan C is needed and the option to repair the reef now appears out of the equation," he said.
"The reef's base layer is still structurally sound and it could provide a vital habitat for marine life."
The BBC has attempted to contact ASR Limited's former director Nick Behunin for a response, but he has not yet replied.
Former technical director Shaw Mead, who is also listed as one of ASR's three shareholders, confirmed he resigned 18 months ago.
He is now managing director of another New Zealand-based marine consulting and research company called eCoast.