Dorset cliff landslide death path to be diverted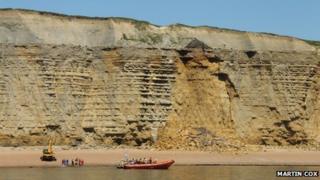 A section of a Dorset coast path which closed in July following a landslip which killed a young woman will be permanently diverted.
Charlotte Blackman, 22, of Heanor, Derbyshire, died after a 160ft (49m) high cliff at Burton Bradstock collapsed.
The path between Burton Freshwater and Hive Beach is currently closed.
Part of the route is expected to reopen but another section will be diverted inland.
Dorset County Council said it was working with the National Trust, which manages the land, to reopen the path between Burton Freshwater and Cliff Road, where the landslip occurred.
The route between Cliff Road and Hive Beach will be diverted behind some seafront properties.
"Specialist advice has shown the area could be subject to a catastrophic collapse in the future," said John Hayes, senior ranger for Dorset Countryside Coastal Ranger Team.
"You don't get a prior warning before a collapse in this area, so there's no other option but to divert it in terms of public safety."
Memorial fund
Ms Blackman had been on holiday with her family at the nearby Freshwater Holiday Park when she was killed in the landslide, on 24 July.
Witnesses said she had been seen walking directly under the cliff moments before it collapsed.
Her boyfriend and father Kevin were also buried beneath the rocks, but were pulled free from the rubble by rescuers.
University graduate Ms Blackman had hoped to start a teaching career, having spent much of her time caring for autistic children.
Her family have set up a charity fund in her memory and raised £600 for The Derbyshire Autism Services Group.
Members of Ms Blackman's family, who work at Derbyshire foundry Fibretech, and her boyfriend, Matt Carnell, have posed naked for a 2013 calendar to raise money for the Charlotte Blackman Memorial Fund.
In September, some of her family members travelled to Burton Bradstock to unveil a bench put up at the holiday park in her memory.
Her father Kevin, said: "It's near the playground, because she loved children, so it would be nice if families came to sit here."
Twenty-two balloons have also been released from Burton Bradstock in Ms Blackman's memory - each representing a year of her life. The first one to be found was at Broadstone Golf Club, near Poole.