Bournemouth's 'hated' Imax building demolition timetable set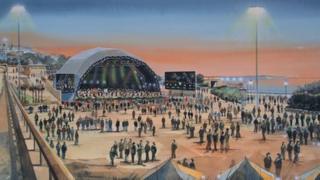 Work to demolish a "hated" building in Bournemouth will start on 5 November.
The former Imax site has been labelled an eyesore by residents who have complained it blocks sea views.
Most work for the first two months will involve stripping out the contents of the building with dismantling of the structure starting in January.
The site is to be transformed into a new public area hosting music concerts, markets and open-air performances due to open in June.
Council leader John Beesley said: "There are a huge amount of reclaimables with value inside which we want to get first.
Channel 4 programme
"The public won't notice much until January where parts of the building will start coming down."
Mr Beesley said it will be a "memorable moment" for local people to see it demolished.
The cinema opened in 2002, nearly three years behind schedule, and then closed in 2005 after having problems showing 3D films.
At the height of its infamy in 2005, the structure was voted one of the UK's most hated buildings in the Channel 4 programme Demolition.
In 2010 the council bought the leasehold and wanted to lower the building's height to reclaim views, but got "no suitable bids" from developers.
So instead, the local authority decided to build a new seafront entertainment space on the site.
The Bournemouth Symphony Orchestra and Pavilion Dance have both already expressed an interest in staging performances there.