Dorset Wildlife Trust to protect 'wet' woodlands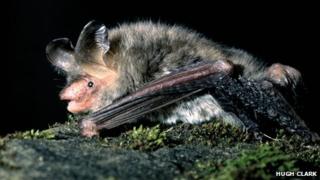 Rare bats, bugs and plants in Dorset are set to benefit from a winter woodland project.
Seven "wet" woodlands, which lie on marshy ground, will be restored along the Frome and South Winterborne rivers.
Restoration work will also be carried out at several woods in Purbeck and 1,500 native trees will be planted at Horselynch Plantation, near Weymouth.
Dorset Wildlife Trust said the woods' rare species include Bechstein's bats, crane flies and handsome woollyworts.
The wet woodland areas from Hooke to Toller Porcorum along the Frome River and on the South Winterborne River are also home to ferns, mosses and lichens.
Emma Tomlin, the trust's trees and woodlands conservation officer, said the work was "essential".
"We'll lose our landscape, heritage and the rich diversity of habitats if this work is not carried out," she said.
Horselynch Plantation, near Weymouth, was created in January.
The land, which measures 1 sq km (0.4 sq m), was bought by Dorset County Council and will become part of the Dorset Wildlife Trust's adjacent Lorton Meadows Nature Reserve.
The winter woodland work is expected to start in November.