A35 bridge work in Poole to delay drivers for 15 weeks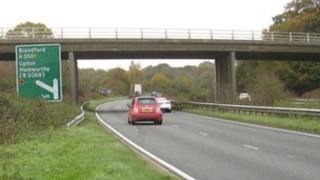 Drivers will face 15 weeks of delays on a main route through Dorset while a bridge is strengthened.
Council officials found the Policemans Lane Bridge over the A35 in Poole could become unstable if a vehicle was to hit one of its support columns.
Five weeks of work from 5 November will see one eastbound lane shut during the day, with the whole carriageway shut overnight for the first two weeks.
Work on the westbound carriage will take 10 weeks from 14 January.
Dorset County Council said it would use the closures to carry out resurfacing work as well as drainage improvements and barrier repairs.
Highways operations manager Andrew Martin said: "There are three sets of support columns - eastbound, westbound and central - and it will take five weeks for each set of columns to be strengthened with reinforced concrete.
"This is vital safety work and it cannot be completed any quicker.
"[It] will inevitably lead to delays, so we're advising residents to plan ahead and allow extra time for their journeys."