Shaftesbury travellers site will be 'safe and secure'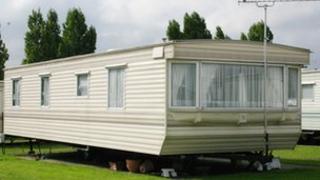 Work has begun on a new travellers site in Shaftesbury to help meet demand across Dorset.
The site off the A30 is expected to be complete in June 2013 and will house eight static caravans with facilities for showers and toilets.
Residents will have to apply to be tenants and pay rent for their pitches.
Dorset County Council is currently investigating suitable sites for travellers across the county following a recent public consultation.
An existing access road to the former Gypsy site on nearby land will be extended to the new site in Shaftesbury.
The site has temporary planning permission for 10 years and is located on the proposed Shaftesbury bypass corridor, which is not planned to be built in that time.
'Very unlikely'
Dorset County Council leader Angus Campbell said: "It is now necessary to provide such sites and this is a valuable step forward in providing a secure and safe place where travellers can stay."
More than 10,000 responses were received by Dorset councils along with 32 petitions and 6,000 signatures as part of its county-wide consultation held between November last year and February.
Individual district councils are now considering their responses and where sites could be built.
Bournemouth Borough Council has said it is "very unlikely" to find suitable sites, with four in the area already deemed inappropriate.
Neighbouring Poole Borough Council has already rejected three sites. A dozen sites have also been proposed in west Dorset, including two at Beaminster and one in Bridport.