Soldiers killed on North West Frontier of India commemorated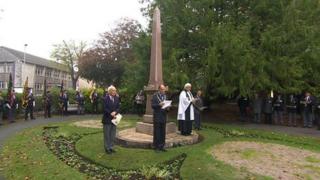 Dorset soldiers who lost their lives on the North West Frontier of India more than 100 years ago have been commemorated in Dorchester.
A service honoured 23 Dorsetshire Regiment soldiers who died defending British forts, at Tirah in 1897.
Pte Sam Vickery was awarded the Victoria Cross for gallantry in the battles with the indigenous population.
Devonshire and Dorset Regiment Association members took part in the service at the Tirah Memorial.
'Alien environment'
The two-year conflict saw close combat between Afridi tribesmen and the British authorities in India around the area of the Khyber Pass, between modern-day Pakistan and Afghanistan.
Dorchester Keep Museum researcher Nick Speakman said: "It was a very troublesome part of the world - safe passage through the pass was important for trade links with India.
"It would have been a totally alien environment for the soldiers who were trained in Dorset."
The service took place at the memorial obelisk erected in Dorchester's Borough Gardens.
"It is important to remember people from earlier campaigns, before the First World War," Mr Speakman added.