Dorset PCC candidate says parties have 'no manifesto'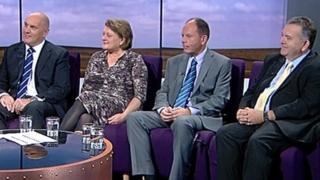 Dorset's independent candidate for next month's police and crime commissioner election says the main political parties have "no manifestos".
Former Sussex police chief Martyn Underhill said his fellow candidates were "insulting" the electorate.
Candidates from Labour, the Liberal Democrats and the Conservatives said they would be fighting for the post on a range of local issues.
Nominations in Dorset have now closed for the election on 15 November.
Mr Underhill made the criticism during a debate between the four candidates on BBC South's Sunday Politics show.
Conservative Nick King suggested the "beauty" of the police and crime commissioner election was no candidate was coming into it with a manifesto of what their party says they should do.
He suggested the important task would be listening to what Dorset people want from their police force.
Mr Underhill responded: "I have got a manifesto and it's been out there for eight weeks because I've been consulting the people of Dorset for six months.
"These people (the other three candidates) have not got a manifesto and I think that's insulting to the public."
In defence, Mr King outlined he and the other candidates were only selected by their parties in July.
Local issues
He said: "In that time, Martyn has had the chance to ask Dorset people what they want and so have I.
"Funnily, I have spoken to twice as many people as Martyn has so maybe that says something about the organisation of his campaign."
Andy Canning, Liberal Democrat candidate, stressed issues at Westminster would not cloud the election in Dorset.
He said: "It has to be an election about local issues.
"We're trying to represent what works from the community's point of view and being directly-elected means you have someone to speak out on your behalf."
Labour's Rachel Rogers feels an important area will be deciding where and what to spend resources on.
She said: "The commissioning side is going to be hugely significant as essentially, the police and crime commissioner will hold a huge budget.
"The nub of what this is all about is deciding what you are going to buy and who you are going to buy it from."