Olympic sailing events saw visitor drop to Weymouth and Portland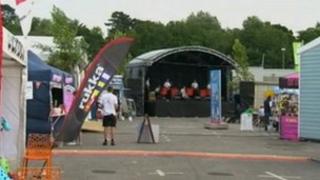 Olympic sailing events in Weymouth and Portland failed to attract the extra visitors expected this summer.
The council said there may have been 75,000 fewer visitors compared with the same period last year.
Some local businesses at the resort hoping for a boom during the Games were disappointed at the lack of people.
The 15,000-strong spectator area in the seaside town sold out, but predictions of 60,000-plus visitors a day never materialised.
But the council stressed this figure was only ever a maximum projection by independent reports as a way of planning for the events.
Ian Doyle, from Weymouth and Portland Borough Council, said precise visitor figures had not yet been calculated but when asked whether they could be 75,000 down on last year admitted "it may well be".
'Businesses struggled'
But he added that the average spend per person was up by 35-40%.
"It was a different market and it didn't suit everybody," he said.
"People whose offer was suited to the type of people who visited did very, very well. Businesses that hadn't sold a bottle of champagne in 10 years, sold out during the Olympics.
"But clearly there were some businesses that struggled for various different reasons."
Numbers were so low at the start of the events that the Bayside Festival on the pier featuring music, events and stalls closed after a week with rarely more than 1,000 people visiting at one time.
The weekend medal races did boost visitor numbers with an estimated 100,000 turning out to watch Ben Ainslie win his fourth Olympic gold.
Chris Reay benefited from the Games, with a full guesthouse in Weymouth.
"We pitched our prices at a similar level to any other summer," he said.
"I think the days of special events where prices could be raised are gone. People are much more savvy, they're much more likely to shop around."
Businesses hope they will see more international tourists next season after the beach resort's television coverage.