Dorset's crime commissioner 'must protect countryside'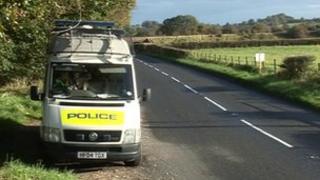 The election of police and crime commissioners could be of detriment to Dorset's rural communities, the police federation has warned.
Chairman Clive Chamberlain fears with the majority of the electorate living in urban areas, priorities will be "concentrated" there.
But some farmers believe the county's police force are "winning the ongoing battle" against rural crime.
Police and crime commissioner elections will be held on 15 November.
Mr Chamberlain hopes rural communities will not "miss out" when the newly elected commissioner takes office in the new year.
He said: "Currently, with the police authority, there is representation around the county.
"But a police and crime commissioner will be one person trying to keep the majority happy. In time, I fear that could be to the detriment of rural communities."
'Protect us'
The force patrols an area of 1,024 square miles (2,650 square km) at a time when police budgets are increasingly under strain from central government.
For James Cossins, whose family have been farming in Tarrant Rawston, near Blandford for more than 110 years, Dorset Police are tackling rural crime effectively.
He said: "The level of response we get when a crime is reported and how the police deal with the aftermath is very good when you consider the resources they have to work with.
"If we encounter problems, I'd like the commissioner to keep those at the forefront of their minds."