Dorset 'blind' shooting club is opened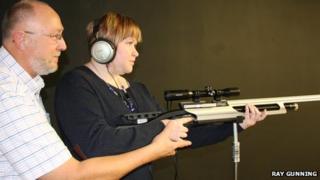 A shooting club for blind and partially sighted people has opened in Dorset.
The "acoustic" shooting club at Canford School uses an audio signal that rises in pitch as the point of aim moves closer to the centre of the target.
Ray Gunning, of Sturminster Newton, was inspired to set up the project for his daughter, Laura, who has been blind for three years.
The Wimborne-based club has been funded by Talbot Village Trust and is supported by Dorset Blind Association.
Telescope-like sensor
In 2009, Mr Gunning's daughter had a "major brain injury" which left her blind and partially disabled.
"Before the accident she had been extremely competitive so I was searching the internet for activities she could pursue which is how I came across acoustic shooting," he said.
Blind and visually impaired shooting is carried out using air rifles at a range of 10m (32ft), on round targets.
Light reflected from the face of a target is picked up by a telescope-like sensor on the rifle and is converted into a sound signal, which the shooter hears through headphones.