Petit Tour de Manche aims to boost Dorset tourism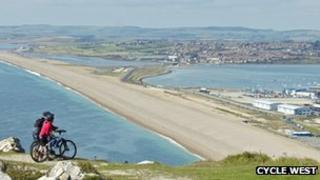 Tourist businesses are discussing how to benefit from a new cycle route linking Dorset with Normandy, Brittany and Jersey.
The 428km (265 mile) Petit Tour de Manche officially opens in spring 2013.
A seminar being held in Weymouth is showing the local tourist industry how best to cater for growing numbers of visitors on cycling holidays.
Peter Finney, of Dorset County Council, said the route opened up "fantastic opportunities" for local businesses.
The Petit Tour de Manche route incorporates cross-Channel ferry crossings and parts of the Jurassic Coast Unesco World Heritage Site.
On the French side, it takes in Mont Saint Michel as well as the D-Day landing beaches.
It also connects Dorset and Jersey into the network of cross-Continental cycle routes, which stretch as far as southern Spain and Ukraine.
The Petit Tour de Manche is one of three new routes being co-ordinated by Cycle West as part of a £6.8m project to connect cycle networks across south-west England, the Channel Islands and France.
'Scenic parts'
Cycle West pointed to research by the French government tourism office which showed visitors on bicycles spent up to 20% more than those in cars.
It said Dorset's tourism industry could capitalise on the fast growing popularity of cycling following the success of British riders in the London 2012 Olympics.
Mr Finney said: "We are confident that the new routes will not only bring more British tourists into Weymouth, but also thousands of French tourists too, keen to enjoy one of the most scenic parts of Britain."
The business event being held at Weymouth Pavilion will spell out the economic benefits of cycle tourism and how B&Bs and shops can tap into the cycle tourism market through measures such as providing bike storage or repair facilities.