Support sought for marine conservation zones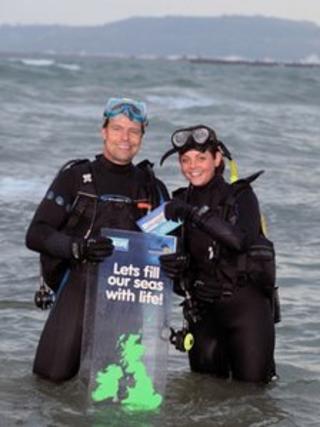 Two Dorset biologists have launched an appeal for support to ensure plans to create 127 marine conservation zones (MCZs) around the UK are carried out.
Conservationists raised fears that the government may only approve a handful of the suggested sites following lobbying from the marine industry.
The UK's Sea Life centres hope to pick up 250,000 postcards from visitors.
Chris Brown and Emily Madge, from the Weymouth centre, launched the appeal by posting the first postcard.
'Once-in-a-lifetime'
Kate Buss, co-ordinator for the Weymouth appeal, said: "Restrictions on fishing and other activities would benefit many species, including the now critically endangered European eel, the red-listed undulate ray and native spiny seahorses.
"The sites recommended amount to only 27% of English waters, but there are fears that ministers will bow to pressure from marine industry lobbyists and approve only a handful."
The centres are asking visitors to register their backing for the creation of the full network of 127 protected areas, proposed following consultation with wildlife groups, fishing interests and other sea users.
The Marine Conservation Society, which was involved in the consultation, is also concerned.
The charity's Dr Jean Luc Solandt said: "There are fears that ministers will miss this once-in-a-lifetime opportunity to make a real difference to the future of our seas, and approve only a handful of these sites."
The Sea Life attractions in Birmingham, Blackpool, Brighton, Great Yarmouth, Hunstanton, Loch Lomond, London, Oban, Scarborough, and Weymouth are taking part, along with Alton Towers, Chessington World of Adventures and the Cornish Seal Sanctuary.
School children will deliver the postcards to Westminster in the New Year.