World sandcastle record attempt on Bournemouth beach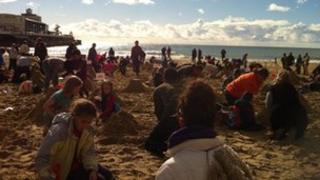 An attempt to break the world record for the most sandcastles built in an hour is being made on a Dorset beach.
The current record, set at Scarborough beach in August, stands at 683.
The Big Sandcastle Build, organised to mark the 21st anniversary of the Big Issue Magazine, will begin on Bournemouth beach at 10:30 BST.
People of all ages, backgrounds and abilities have been invited to take part and all money raised will go towards the Big Issue Foundation.
Moira Hornik, spokeswoman for the charity, said they were hoping for a good turnout to break the current Guinness World Record.
She said: "There are no restrictions, as long as they can hold a bucket and spade and want to take part they can come along. The more the merrier."
Sandcastles measured
Sandcastle builders will be able to buy flags for their castles from Big Issue Foundation representatives, with the money going towards helping homeless people rebuild their lives.
Ms Hornik said each sandcastle would have to be 2ft wide and 2ft tall (60cm by 60cm) and have four turrets.
The event, which is part of Bournemouth Arts Festival, will be opened by world sand sculptor and creator of Sandworld in Weymouth, Mark Anderson.
He will give a talk and demonstration before the timed attempt gets underway at 11:00 BST.
Afterwards, independent adjudicators will have to count and measure every castle.
It will take about six weeks to verify the record with Guinness World Records.