Dorset landslip deaths: Call for memorial at Beaminster Tunnel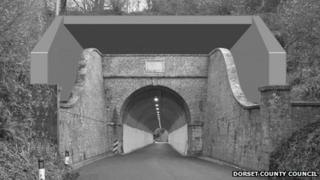 Work to stabilise and reopen a road tunnel in Dorset where two people were killed in a landslip should include a memorial, a councillor has said.
Rosemary Snell and Michael Rolfe, from Somerset, died when their car was buried at Beaminster Tunnel in July.
A plan to install a concrete hood over the tunnel entrance has emerged as the front-runner with locals.
Councillor Rebecca Knox called for the "quickest and safest" option to be chosen.
Five possible solutions were originally put on the table with the hood extension and a proposal to stabilise the slope becoming preferred options - both would take six months to complete.
Nine days
Mrs Knox, ward member for Beaminster on Dorset County Council, said: "I'm in listening mode over the options, but the preference I have been given from people is for the extension idea."
She said some traders had raised concerns the loss of the road access was affecting trade.
"Obviously the way some people get to Beaminster has changed. It may deter some," she added.
"But we're here, we haven't changed. Shops are rising up to it."
The councillor also said that as the tunnel already features a memorial to a worker who died during its construction it would be right to commemorate Mrs Snell and Mr Rolfe.
"It would surprise me if there wasn't a memorial. I can imagine there will be discussions about that when appropriate," she said.
A public meeting will be held on Thursday at 18:30 BST in Beaminster Public Hall where the public will be given detailed information on the options.
Dorset County Council said engineers had dug five boreholes up to 25m (82ft) deep in the hill, investigated the foundations of the tunnel entrance walls and extracted samples for further investigation.
Ms Snell, 67, and Mr Rolfe, 72, went missing on 7 July but it was not until nine days later that Avon and Somerset Police alerted colleagues in Dorset the couple had been traced to the Beaminster area.