Poole beach hut lease proposal dropped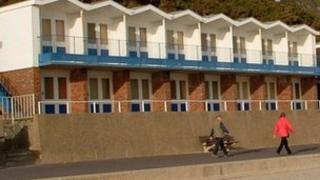 Plans to reduce beach hut waiting lists in a Dorset town by restricting leases look set to be dropped following a public consultation.
Tenants in Poole will be able to continue renewing their contract year on year.
Borough of Poole council had suggested limiting leases to five and ten years to make the "huts more accessible to a higher number of residents".
The cabinet is expected to approve the decision on 16 October.
The council is also looking into plans to build more beach huts on Poole's beaches.
Opposition group
At the moment only between 40 and 60 huts become available each year, with an approximate waiting time of up to 10 years.
The plans for changes to the leases announced last year were opposed by more than 100 beach hut tenants, who formed the Poole Beach Hut Association to fight the plans.
Councillor Judy Butt said: "Under the localism agenda, it's imperative we work with the community to find positive solutions to issues that we can all take forward.
"This has been a sound example of how working together benefits Poole residents as a whole."