Dorchester Charles Street: Call for Robert Gould to resign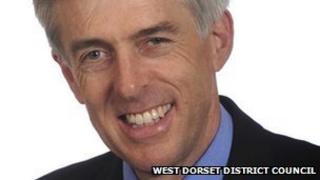 A West Dorset councillor has called for Robert Gould to step down as leader of West Dorset District Council amid rows over a town centre development.
Lib Dem councillor Ros Kayes said there had been "great disquiet" over decisions made about phase two of Dorchester's Charles Street revamp.
There are fears the £60m retail plans are "not financially viable".
Mr Gould said "this is not a picture I recognise" and added the scheme was backed by all three political parties.
He has also promised a full public consultation on the matter.
The council's executive committee has agreed a recommendation to fund up to £2m of preparatory work including the relocation of a church from Acland Road to Trinity Street.
Ms Kayes, who disputed Mr Gould's claim that the scheme had strong support from her party, said: "I think there is a big cry for proper democratic government in West Dorset and this council has got to change the way it operates, and for me the leader resigning and a new leader taking control would be the first step in that."
Dorchester's town crier, Alistair Chisholm, has called for a public vote to be made on the plans by "everyone in West Dorset".
"This is taxpayers' money," he said, "and there's no guarantee that these plans will have the desired affect."
New council buildings, a library and adult learning centre are being built in Charles Street in the first phase of its regeneration.
The council said the preparatory works for phase two would increase the value of the council's site "regardless of whether the development proceeds".
Phase two, which was approved in 2010, had been due to include a hotel and an underground public car park.
West Dorset District Council is now considering revised proposals for 24 flats in place of the hotel.
The amount of underground parking would also be reduced, with equivalent spaces created elsewhere in the town.
The remaining plans include 23 shops and affordable homes.
The plans are set to go on public display in Dorchester for a period of 10 days.
The executive committee recommendation will be subject to a full West Dorset District Council vote on Thursday 25 October.