Lost iPhone on Sandbanks Beach prompts 999 call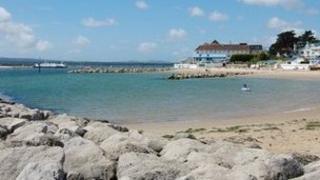 A coastguard received a 999 call from a person after they lost their iPhone on a beach in Dorset.
Portland Coastguard was called on Sunday afternoon by a person asking for help to retrieve their phone after it fell between rocks on Sandbanks Beach.
The owner was asked to call the police instead.
Dorset police confirmed they were not contacted. The Maritime and Coastguard Agency (MCA) is urging people to take care when climbing on coastal rocks.
An MCA spokesperson said: "Rocks can be very slippery when wet and lead to quite horrendous injuries.
"If you do get into difficulty and your safety is at risk, you're urged to call 999 and ask for the coastguard."