Bournemouth University's Sophie Petzal wins International Emmy Award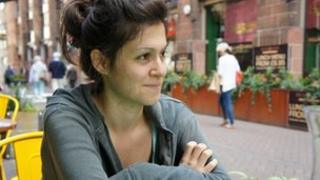 A Bournemouth University student has won an International Emmy Award for a script she started while studying.
Sophie Petzal, 21, from Bexhill in East Sussex was in the second year of a BA (Hons) Scriptwriting for Film and Television when she wrote Sanctioned.
She will now be flown to New York in November to pick up the Sir Peter Ustinov Television Scriptwriting Award.
Ms Petzal said: "It's ridiculous, it is one of those big competitions that everyone in my industry is aware of."
She added: "It comes around every year like Christmas and you always have a go at it but I never thought that I'd win.
'Completely surreal'
Ms Petzal, who is currently a BBC Production Trainee after deferring her last year at university, found out she had won when she got a phone call from America.
"I was in a meeting and it came through as an American number," she said. "It was completely surreal when I was told, I still haven't come to terms with it."
Her hour long TV pilot script is about a young teacher who is recruited into a rogue police branch that kills criminals who have escaped justice.
It will be read out by actors in a special seminar at the Emmy World Television Festival and Ms Petzal will also be invited to take part in the red carpet festivities at the final awards gala.
She said: "I'm just thinking of the award in two ways, I'm trying to make the most of it career-wise but I'm also enjoying the pat on the back.
"It is nice to get that in an industry where that happens so rarely."