Red Arrows pilot Jon Egging inquiry completed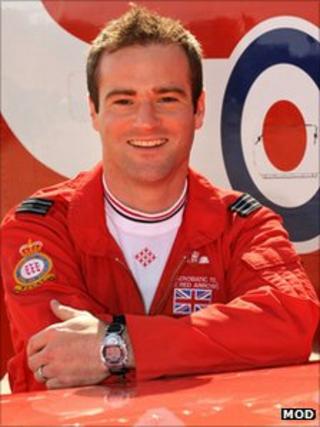 The Military Aviation Authority (MAA) has completed its independent inquiry into the death of Red Arrows pilot Jon Egging.
Part of the Ministry of Defence (MOD), the MAA is an independent organization tasked to investigate the cause of the tragedy.
The MOD said the report had been sent to Bournemouth coroner Sheriff Payne. Its findings are unknown.
A date has not yet been set for the full inquest.
Mr Egging was killed in August last year when his Hawk Jet crashed after a display at the Bournemouth Air Festival.
Born in Southam, Warwickshire, he joined the team in the autumn of 2010 and flew on the right hand outside of the famous diamond formation.
In August a memorial to him, designed by local school children, was unveiled at Bournemouth's East Overcliff.
It features three glass Red Arrow planes and stainless steel contrails.