Shaftesbury rare archive documents 700 years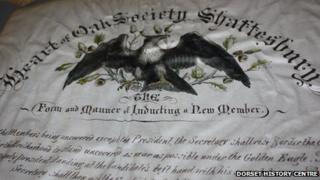 Rare archive documenting almost 700 years of a Dorset town's history has been made available to the public for the first time.
The newly catalogued archive for Shaftesbury includes royal grants, electoral rolls and court records, and dates back to the 14th Century.
Housed at the Dorset History Centre, Dorchester, in 188 boxes, it is also available to view online.
Bridport is the only other town in the county with a similar archive.
The project was supported by a £19,125 grant from The National Archives Cataloguing Grants Programme, with an additional £200 from Shaftesbury Town Council.
Volunteers from Gold Hill Museum, Shaftesbury, helped to collate the archive documents.