Dorchester Charles Street regeneration 'not viable'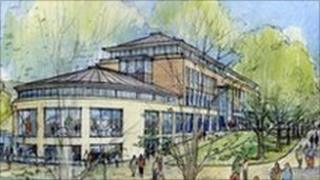 Plans to revamp part of a Dorset town could be scaled back amid concerns it is "not financially viable".
New council buildings, a library and adult learning centre are being built in Dorchester's Charles Street in the first phase of its regeneration.
Phase two, which was approved in 2010, had been due to include a hotel and an underground public car park.
West Dorset District Council is now considering revised proposals for 24 flats in place of the hotel.
The amount of underground parking would also be reduced, with equivalent spaces created elsewhere in the town.
The remaining plans include 23 shops and affordable homes.
'Accepting changes'
A report to the council's executive committee, which meets on Tuesday, recommends the authority funds £2m of preparatory works, including the relocation of a church from Acland Road to Trinity Street.
In the report, the authority's technical services manager, Steve Woollard, said: "The council has worked hard to achieve a town centre development on the Charles Street site for some 30 years.
"The current proposals which have planning permission are the closest that has been achieved to success.
"Waiting for the economy to improve could lead to the loss of key anchor tenants and it is therefore suggested that the option of accepting changes to the scheme is the best way of achieving a development and securing over 600 jobs."
A separate report also reveals that the council received two bids for its current High Street site at Stratton House but both were below the independent valuations it had received.