Poole's Twin Sails Bridge breaks down twice in a week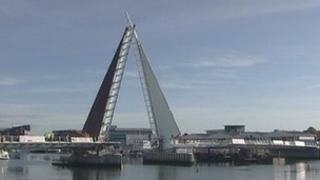 Dorset's £21.6 million Twin Sails Bridge has been out of operation twice in the last week.
The bridge in Poole failed to lift as scheduled at 11:30 BST on Tuesday and was out of use for over two hours.
And on Sunday motorists were unable to cross as the bridge was broken for an hour and 45 minutes.
A Poole Borough Council spokeswoman has apologised. She said there was a fault with the bridge's control system.
"The council is working closely with its contractor to rectify the fault and a software engineer will be on-site today to carry out further investigations into the cause of the problem," she said.
"We would like to apologise to road users and boat owners for any inconvenience which may have been caused by the temporary closures."
The lifting bridge, linking Poole Harbour with Hamworthy, was scheduled to officially open at the end of February, but was delayed until April for emergency repairs.
Parts of the road surface were falling away as the structure was raised.