Brownsea Island trees protected from Dutch elm disease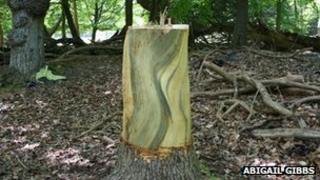 Rare native elm trees on a Dorset island are being protected under a new scheme in an effort to save them from Dutch elm disease.
The eighty trees on Brownsea Island survived the epidemic of the 1970s, which wiped out nearly all the mature elms in the country.
The disease takes the form of a fungus and is spread through the trees' roots or by the elm bark beetle.
Weekly checks and surveys are being carried out on each tree on the island.
The work is being done by 20 volunteers from Dorset Wildlife Trust and the National Trust, which manages the island.
The trees, believed to be the only group of semi-mature elms in the county, were discovered in 2004 following a clearance of invasive rhododendron plants.
The disease claimed two trees on the island in 2009.