RNLI memorial in Poole has 28 lifesavers names added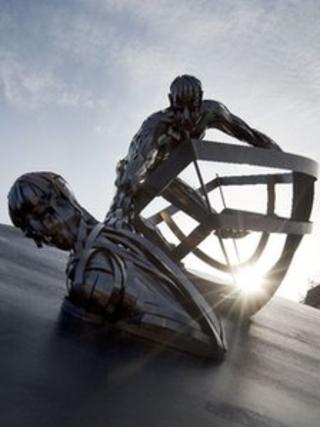 The names of 28 people who lost their lives saving others at sea have been added to the RNLI memorial at the charity's headquarters in Dorset.
The memorial, first unveiled in Poole in 2009, originally carried the names of 778 RNLI lifesavers who died at sea.
Additional names were found through further research and friends and family telling the stories of loved ones.
RNLI chief executive Paul Boissier said the memorial at the home of the RNLI "is designed to be a beacon of hope".
They include Lyme Regis's John Gerrard, killed in 1861, and Weymouth's Cdr J R Pennington Legh, who died in 1944.
Mr Gerrard, the master of the fishing smack 'Busy', was killed at Burton Bradstock while attempting to rescue the crew of fishing boats being driven ashore in a heavy gale.
Coastguard inspector, Cdr J.R. Pennington Legh was onboard the Weymouth lifeboat, launched to assist an American tank landing craft in difficulty off Chesil Beach in a severe gale and rough seas. He was washed into the sea and drowned.
The additional names of those who died at sea between 1855 and 1999, were unveiled at a dedication ceremony earlier.
Mr Boissier said: "It tells the story of thousands of people, those lost, those saved and those who go to the rescue."
The memorial, designed by sculptor Sam Holland and funded through the RNLI Heritage Trust, is the first single monument to commemorate all those who have lost their lives in the cause of saving others at sea.