Portland quarry nature reserves restored for butterflies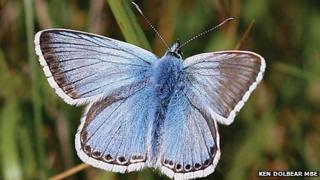 A zip wire, a remote-controlled car and a video camera are helping to safeguard the future of rare butterflies and plants at disused quarry sites in Dorset.
The limestone grassland sites on the Isle of Portland, which are now nature reserves and managed by Dorset Wildlife Trust, are home to nationally important colonies of butterflies, such as the chalkhill blue and small blue.
These habitats are being invaded by a low-growing shrub, known as cotoneaster, which was first recorded on the island in 1856, and the trust is carrying out a three-year project to remove it.
As part of the £850,000 project, funded by the Landfill Communities Fund, the trust has developed a video camera which will "fly" across Kingbarrow, Tout, Bowers and Inmasthay quarries on a zip wire and document their habitats.
'Absolutely beautiful'
"We experimented with Lego and Meccano, and then dismantled a remote-controlled car to build the camera which was first trialled on a washing line in a back garden," said Sam Hamer, Portland Living Landscapes officer for the wildlife trust.
"The videos allow us to capture the quarries in 2D so we can assess the their full scale - including all of their nooks and crannies - rather than just by looking at aerial maps which can be deceiving."
Mr Hamer said large areas of cotoneaster had been detected at Kingbarrow Quarry, using the new system, which the trust had previously been unaware of.
"It grows like a carpet across the rock surfaces and soils and out-competes any of the things that are locally growing - it just shades them out," he said.
'Unique habitats'
Margaret Dunlop, manager of the Queen Anne House bed and breakfast in Fortuneswell, Portland regularly walks through the quarry nature reserves and describes them as "absolutely beautiful".
"They're part of our heritage and I'm so pleased they're being restored for future generations to enjoy," she said.
Andy Matthews, chair of the Portland Community Partnership which helped to secure funding for the restoration project, hopes it will provide a legacy for Portland following its global spotlight during the London 2012 Olympics, when it hosted the sailing events with Weymouth.
"Any project which highlights the quarry nature trail area and improves its unique habitats is welcomed, and will encourage more visitors and enhance the economy of the island," he said.
Portland quarries fall within the Isle of Purbeck Site of Special Scientific Interest (SSSI) and the island is also home to 100% of the global population of Portland hawkweed [a yellow flowering plant similar to a dandelion].
"There's also an enormous amount of diverse grassland here too such as kidney vetch, horseshoe vetch and bird's foot trefoil, which are key to the lifecycle of a butterfly," said Mr Hamer.
'Showcase quarries'
He added the quarries provided "a bit of serenity" for butterflies.
"When the winds are blowing wild on the tops it can be quite mild down in the quarries," he said.
The Dorset Wildlife Trust aims to record footage at the reserves, using the new camera, three times a year until the project ends in February 2015.
"Filming on each site will take about two months at a time," Mr Hamer said.
"It will give us a cast iron record of the restoration work - highlighting the changes during the work and over the different seasons - and will allow us to showcase the quarries to people who have never seen them, or perhaps never even realised they were there."