Dorset's Iron Age Chesil Mirror to be sold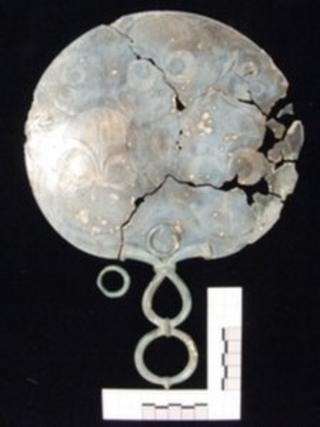 An Iron Age mirror discovered by a metal detectorist in Dorset has been put up for sale.
The finely decorated Chesil Mirror and a number of other items were discovered in a grave between Abbotsbury and Chickerell in 2010.
Dorset County Museum is hoping to raise £23,000 to buy the artefacts for its collection and prevent them from being taken overseas.
The money would be split between the finder and the landowner.
The copper-alloy mirror is similar to the Portesham Mirror - already part of the museum's collection - which was acquired in 1994. Fewer than 30 of its type have been discovered in the UK.
The grave, which dated back to the Roman Conquest, contained a body buried in a crouched position, two brooches, an armlet, copper tweezers, coins and glass beads.
The hoard was declared treasure in August 2011 and the price was set by the government in April 2012.
The skeleton, as human remains, has no monetary value and is currently at Bournemouth University but will be reunited with the other artefacts when they are sold.
Museum director Jon Murden said: "These rare and fascinating objects are significant because they tell us so much about power and wealth in Iron Age Dorset."
The museum has until the end of the year to raise the money.