Invasive species in Dorset logged using ecology software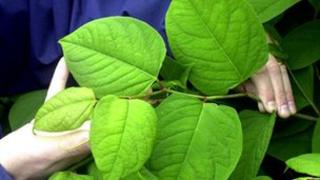 Software used by ecologists to log native species is being adapted for use in the fight against invasive plants.
Dorset County Council is working with the Dorset Environmental Records Centre (DERC) to log sightings of alien species such as Japanese Knotweed.
The Living Record software used by DERC is being adopted to help highways teams target problem sites.
Members of the public can also log on to a special site to register sightings of a range of invasive plants.
Japanese Knotweed, Giant Hogweed and Himalayan Balsam are among the species causing problems in the county and elsewhere.
Online map
Not only do the invasive plants crowd out native species, the knotweed can cause damage to buildings and roads.
Giant Hogweed produces toxic chemicals which can cause severe burns.
Ecologist Dr Annabel King, who is leading the project, said: "Highways engineers, rangers and others used to record sightings on paper while they were out and about but this proved time-consuming and it was hard to see the big picture across Dorset.
"Living Record uses an online map to log sightings which makes them much easier to see. Now staff can enter records via a hand-held console as soon as they see them, or online when they get back to the office and members of the public can easily join in too.
"I am putting on all the old records and verifying the new ones as they come in."
DERC is an independent organisation that collates information on Dorset's wildlife to allow conservation groups to work together.