Christchurch slow worms moved for town centre development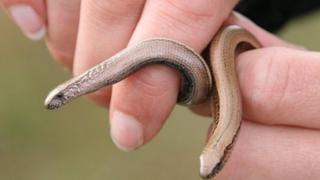 A group of slow worms is being relocated from a brownfield development site to a nature reserve in Dorset.
About 20 slow worms are being moved from the undisclosed site in Christchurch town centre to Steamer Point Nature Reserve, three miles away.
The limbless lizards have protected status in the UK and under the Wildlife and Countryside Act 1981 it is illegal to intentionally kill or injure them.
Developers found the reptiles during the site's planning stages.
Christchurch Countryside Service is moving the slow worms, which can grow up to 50cm-long (19.7in), by hand to the 24 acre (9.7 hectare) cliff top reserve between Highcliffe Castle and Friar's Cliff.
Peter Holloway, senior countryside officer for Christchurch Borough Council, said: "We transport them in soft cotton bags.
"We will be removing an area of scrub and creating some additional rough grassland, which is an ideal habitat for these reptiles."